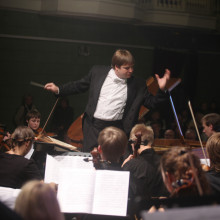 On February 16, 2018, the rector of the Conservatory Alexei Vasilyev will conduct the second concert of the new subscription cycle of the St. Petersburg Chapel. The mysterious name "Music of the Four Elements" during the concert season 2017-2018 promises an informal meeting with Fire, Air, Earth and Water.
The water page of the season ticket will be presented by Debussy's Sea, Magic Lake by Liadov, Smetana's Vltava and waltz for all seasons by Johann Strauss "On the Beautiful Blue Danube". Participants in the performance are the Symphony Orchestra of students of the St. Petersburg State Conservatory and projection video mappings. The director is Vitaly Gordienko.
 
http://mail.capella-spb.ru/ru/afisha/concerts/2018-02/16-fevralya-molode...