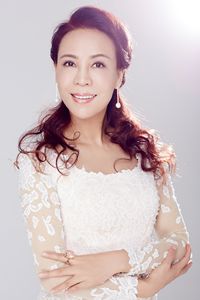 ZHAO Yunhong
(China)
The well-known Chinese soprano Zhao Yunhong was born in the city of Da Li. In 1988 she entered the Chinese State Conservatory where studied with Prof. Lu Han Zhai and the following year was appointed to continue her studies with Prof. I. Maslennikova at the Moscow State Conservatory in Russia. With a special decision of the State Examination Commission Zhao Yunhong was awarded the degree of Master of Arts.
After her graduation in 1995 she was invited to teach at the Faculty of Vocal and Opera Studies at the Chinese State Conservatory. She currently leads the Institute of Vocal Art Studies at the Chinese Conservatory and is also the head of the choir of the Ministry of Foreign Affairs of China.
Zhao Yunhong is an active singer. She successfully performed in theaters and concert halls of Russia, Germany, Italy, France, Singapore, Austria, the Czech Republic, Japan, and the USA. She prepared and performed the parts in Mozart's operas Don Giovanni (Zerlina), Le Nozze di Figaro (Suzanne), and Cosi Fan Tutti (Despina), Rossini's Il Barbiere di Sevilla (Rozina); Gounod's Faust (Margarita), Offenbach's Tales of Hoffmann (Olympia)
The significant event "Year of Russia in China" was marked by her recitals of the works of Russian composers in the Beijing Philharmonic Concert Hall, in the cities of Jinan, Kunming, Lanzhou, Dali.
Professor of the Chinese State Conservatory Zhao Yunhong has raised many students, a number of which have won international and national singing competitions. Zhao Yunhong has been often invited as a jury member to musical competitions in China and international contests including Tchaikovsky international competition in Moscow (2007), the Stenhammar international competition (Sweden, 2006), Nezhdanova international vocal competition (Ukraine, 2010).