piano
Honored Artist of Russia, the Head of the Department of Piano Accompaniment of Saint-Petersburg State Conservatory named after N.A. Rimsky-Korsakov.
Is a graduate of Saint-Petersburg Conservatory, where she also completed post-graduate course under professors G.L. Sokolov, E.V. Shishko and T.L. Fidler, working for 3 years as an assistant to the latter. Since 1992 Elena Gaudasinskaya taught chamber ensemble and accompaniment. Since 2000 she teaches at the Department of Piano Accompaniment. Elena Gaudasinskaya is one of the leading accompanists of Saint-Petersburg with an intensive concert activity in Russia and abroad for many years. Her repertory includes a number of instrumental chamber works and practically the whole repertory for voice.
She works in close partnership with renowned singers and instrumentalists, such as the People's Artist of USSR Irina Bogacheva, the People's Artist of USSR Zurab Sotkilava, the People's Artist of USSR Virgilius Noreika (Lithuania), the People's Artist of Russia Vladimir Tchernov, Alexandrina Milcheva (Bulgaria), I.Prober (France), Chzhao Yun Hon (China), Elena Vitman, Yu. Ivshin, R.Bahrah, Honored Artist of Russia S.Slovachevsky, O.Petrova and many young artists.
In 2003 Elena Gaudasinskaya was awarded a prize by the "Russian Performing Art" fund for concert and pedagogic activities.
She has received Diploma for Best Accompanist at the International Competitions in Busseto, the Rimsky-Korsakov and the Tchaikovsky in 2002 and 2006.
In 2003 she becomes one of the project developers and director of the annual Festival-Competition "Three Centuries of Classic Romance" and the Competition for Opera Singers "Saint-Petersburg".
---
piano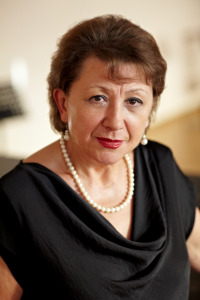 Professor of St. Petersburg Conservatory, Honored Artist of Russia, art Director of International Festival-Competition «Three century of classical romances».
She has graduated St. Petersburg (Leningrad) Conservatory with piano diploma, then completed her postgraduate study in Chamber Ensemble with leading Russian professors of that discipline. Since that time to this day she has been teaching Chamber Ensemble and Accompaniment at the St.Petersburg Conservatory. 
In the same time she has led varied artistic career, performing as singer's accompanist and chamber musician, partnered many of renowned vocal soloists and ensemble. She performs with soloists of Bolshoi and Mariinsky theatres with most diversified programs including hundreds of pieces, from ancient European and Russian music till contemporary composers. The Russian vocal classics is the core of Irina Sharapova concert activity. Following this theme, she has carried out a line of projects including great concert series and records, broadcasts and telecasts. Among them are " The Anthology of Russian romance, " "Russian musical culture of XVIII - XX centuries "," Two centuries of Russian romance." Now she is one of organizers, heads and constant participants of extensive International Festival-competition «Three century of classical romances». Alongside Irina Sharapova continues intensive performances with her favorite national trio "Russian virtuoso project" both other ensembles and instruments, last time giving the increasing preference to harp music. 
The other sides of her activity are performance (mostly the First performance) of contemporary music in different genres, preparation of new musical editions, tours in the European countries and USA, master classes on art of vocal and instrumental accompaniment.