soprano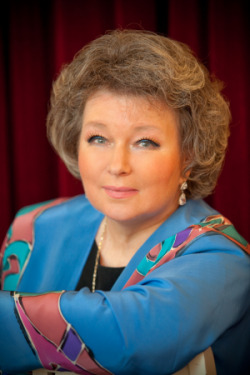 People's Artist of Russia, Prize-winner at the Glinka All-Union Vocalists Competition (Moscow, 1984), Prize-winner and Holder of a Special Award for Best Soprano at the Francesco Viñas International Competition (Barcelona, Spain, 1987). She graduated from the Ural State Conservatoire in violin studies (class of Professor Gashinsky) in 1982, and in solo singing (class of Professor Rodionova) in 1982. From 1983 to 1985 she continued her studies as a postgraduate at the Tchaikovsky State Conservatoire in Moscow (class of Professor I. Arkhipova). Olga Kondina has been a leading soloist at the Mariinsky Theatre since 1985. Her repertoire includes all the leading party lyric-coloratura soprano. The singer's extensive chamber repertoire includes a number of solo recitals of works by French, Italian and German composers. Olga Kondina has toured with the Mariinsky Theatre and independently in Europe, America and Japan; she has performed at the Metropolitan Opera in New York and at the Royal Albert Hall in London.
Olga Kondina is a member of the jury of a number of international singing competitions (including the "Three Centuries of the Classical Romance" International Festival-Competition and the William Stenhammar International Music Competition), and is a lecturer in the singing class at the Rimsky-Korsakov State Conservatoire in St Petersburg. For two years she has been in charge of the Department of the History and Theory of Vocal Art.
The singer's discography includes the CD recordings Russian Classical Romances (1993), Sparrow Oratorio: The Four Seasons (1993), Ave Maria (1994), Reflections (1996, with the Andreyev Academic Russian Orchestra), Ten Brilliant Arias (1997) and Unique baroque music (with Erik Kurmangaliev, conductor Alexander Rudin).
---
tenor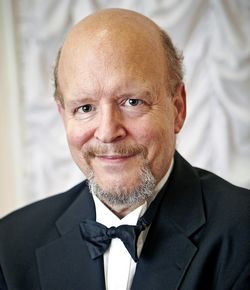 Scot Weir was born in New Mexico, USA, and studied at the University of Colorado School of Music in Boulder, Colorado, USA, with Louis Cunningham, Barbara Doscher, Gerhard Hüsch, Gérard Souzay, Renato Cappechi and Ralph Herbert. During the 1980s he took up contracts as a lyric tenor with the Musiktheater Gelsenkirchen and the Hessisches Staatstheater in Wiesbaden, Germany. Here he founded the Musikherbst Wiesbaden, of which he is the artistic director. Freelance since 1989, Scot Weir performs throughout the world. He is a regular guest at the Théatre de la Monnaie in Brussels, at the Opéra Bastille and Opéra Chatelet in Paris, at the Zurich opera and at the Netherlands Opera in Amsterdam. Scot Weir has sung at the Berliner Bachtage, the Berliner Festwochen, the festivals in Salzburg, Ludwigsburg and Schwetzingen, at Mostly Mozart in New York, at the Eisenstadt Haydn Festival, at Wien Modern and the Mozartwoche in Salzburg as well as at numerous festivals in Europe, North America, Japan and Israel. Scot Weir is equally well-established as an opera, oratorio and lieder singer. His repertoire encompasses over 70 operatic rôles, more than 200 oratorios and around 1000 songs, including 47 complete song cycles. He has worked with well-known conductors such as Nicolaus Harnoncourt, Roger Norrington, Helmuth Rilling, Peter Schreier, Gennadi Roshdestvensky, Charles Dutoit, Sir Charles Mackerras and Jesus Lopez Cobos. Radio and CD recordings document his career. As a teacher he has directed many music courses at the universities of Colorado and Oregon. Since 1993 Scot Weir has worked as vocal tutor at the Internationale Bachakademie in Stuttgart and was appointed Professor of Singing at the Academy of Music Hanns Eisler Berlin in 1995.
---
soprano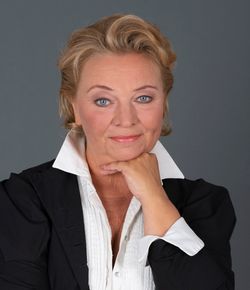 She graduated from the Academy of Music "Carl Maria von Weber" in Dresden with Prof. Ilse Hana. Then, during the 10 years studied with Elisabeth Schwarzkopf.
Following engagements with the opera houses in Halle and Cologne, she started her freelance career.
Initially, Martina Rüping distinguished herself in the German soubrette- and coloratura category, for example as Ännchen (Stuttgart), Queen of the Night (Opera Cologne, Deutsche Oper Berlin, Munich), Blondchen (Karlsruhe) and Zerbinetta (Komische Oper Berlin).
She has given guest performances at major national and international opera houses, for example in Los Angeles, Toulouse, Turin, Tokyo, Munich, Stuttgart, Berlin and Karlsruhe as well as at the Bayreuth Festival.
She has worked with well-known conductors such as Riccardo Muti, Kent Nagano, Philippe Herreweghe, Pierre Boulez, Bruno Weill, Edo de Waart, Frans Brüggen, Alessandro de Marchi, Peter Schneider and Michael Schneider.
She is very interested in interpreting baroque parts and has close ties to the "International Händel Festival" in Halle, where she has already sung in various Händel productions - as Atalanta in Serse, Achill in Deidamia, Clomiri in Imeneo, Esilena in Rodrigo and Iole in Hercules.
In addition, Martina Rüping has a wide-ranging concert repertoire. She had her fantastic debut at the Teatro alla Scala as the soprano in Carl Orff's Carmina Burana, conducted by Riccardo Muti.
Together with the Radiokamerorkest, conducted by Philippe Herreweghe, she sang the soprano part in Haydn's "Creation" in Amsterdam, Stockholm and Oslo. She also sang in Haydn's "Seven Last Words of Christ on the Cross", conducted by Frans Brüggen and Erwin Schulhoff's "Flames", conducted by Edo de Waart.
Modern music performances are also part of the artist's repertoire. She sang in "Le troisième et dernier testament" by Nicolas Obouhow at Concertgebouw Amsterdam -conducted by Reinbert de Leeuw.
---
soprano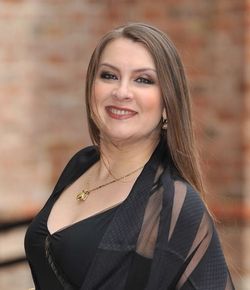 born in Vilnius in 1974, commenced her studies at the tender age of 6 at the Vilnius Tchiurlionis Art Gymnasiums piano class. After graduating there at 18, she proceeded on to the Lithuanian Academy of Music, department of musicology. After 2 years, she entered the solo singing department, where she acquired a Masters and Doctors degree.
Nomeda Kazlaus has participated in master classes with Professors Ernest Haefliger, Francisco Araiza, Julia Hamari, Vladimir Atlantov, Mrs. Montserrat Caballe and Larissa Gergieva. In 2003, she received the prestigious Richard-Wagner-Verband Bayreuth grant in Germany. In 2004, Nomeda Kazlaus made her debut at the Mariinsky theatre in St. Petersburg with the role of Elisabetta in Don Carlo, and repeated this performance here in 2005. Also at the Mariinsky, Nomeda Kazlaus has prepared the role of Sieglinde in Die Walkure. Miss Kazlaus specializes in the operatic repertoire of Verdi, Wagner, and Slavic composers. Collaboration with Mrs. Montserrat Caballe. Miss Kazlaus has the very unique position of having an exclusive collaboration with Mrs. Montserrat Caballe. After a master class in Andorra in 2000, Mrs. Caballe invited Kazlaus to perform on numerous concerts with her, among others the opening of Gostiny Dvor Hall in Moscow and the opening concert of the Peralada festival of 2001. In 2002 she made her debut at the Gran Teatre del Liceu in Barcelona with the role of Anne Boleyn in a new production of Henry VIII by Camille Saint-Saens with Montserrat Caballe as Catherine and Simon Estes as Henry, directed by Pierre Jourdan. In 2000 she was the main character/participant in French/German TV ARTE telecast "Montserrat Caballe presents the Stars of Tomorow" ("Montserrat Caballe prasentiert Stars von Morgen"). She also appears in performance with Mrs. Caballe in the film "Caballe, Beyond Music" 2003, Morena Films.
With the Lithuanian National Opera, Nomeda Kazlaus has sung Don Carlos, Cavalleria Rusticana, The Tales of Hoffmann, La forza del destino with Sergej Larin. She sung Carmen at the Koshice Oper Theatre (Slovak Republic). She has also performed leading roles at Liceu in Barcelona, Mariinsky Theatre in St.Petersburg, and Bolshoj in Moscow. She has been soloist with the Hungarian, Latvian, Slovak, and Lithuanian National Opera Orchestras and the Tchaikovsky Symphony, Russian State Symphony, Lithuanian Chamber Orchestra, Mariinsky Theatre Symphony Orchestras and others. Nomeda Kazlaus also has performed in London (St. Johns Smith Square), Germany, Switzerland, Austria and Russia (Moscow Conservatoire Tchaikovsky Grand Hall; Gostinyj Dvor Hall; St. Petersburg Philharmonic Small Hall) and others. She has sung at the international festivals in Usedom (1998, 1999, Germany), at the Moscow Spring Festival (2000, 2001, Russia) and Peralada (2001, Spain) with Montserrat Caballe, The White Nights at Moscow with Valery Gergiev in 2005. Nomeda Kazlaus has worked with conductors such as Lord Yehudi Menuhin, José Collado, Anton Guadagno, Miquel Ortega, Roberto Paternostro, Saulius Sondeckis, Jonas Aleksa, Juozas Domarkas, Mikhail Sinkevich, Tugan Sokhiev, Valery Gergiev.
---
piano
Née en Russie, Kira Parfeevets a effectué ses études musicales au Conservatoire National Supérieur de Musique de Minsk, où elle a obtenu plusieurs premiers prix (piano, musique de chambre, accompagnement, pédagogie) ainsi qu'une maîtrise de musique. De 1997 à 2001, elle a été engagée comme chef de chant au Centre de Formation Lyrique de l'Opéra National de Paris. Depuis, elle partage ses activités entre productions d'opéras, coaching linguistique et récitals. Elle a été invitée pour les études musicales d'ouvrages lyriques italiens, français et russes par de nombreux théâtres et festivals tels que l'Opéra de Monte-Carlo, le Grand Théâtre de Bordeaux, le Capitole de Toulouse, l'Opéra de Nice, l'Opéra-Théâtre d'Avignon, Stanislavski Théâtre de Moscou, le Festival Alfredo Kraus de Las Palmas de Gran Canaria, les Chorégies d'Orange, le Festival d'Aix-en-Provence, l'Opéra National de Paris. Elle a travaillé aux côtés des plus grands chefs d'orchestre : M. Plasson, K. Mazur, A. Zedda, M.W. Chung, P. Steinberg, E. Pido, Y. Sado, R. Rizzi-Brignoli, J. Lopez-Cobos, G. Noseda, G. Prêtre parmi d'autres.
Elle s'est produite en récital aux côtés de chanteurs tels que Sonya Yoncheva, Roberto Alagna, Inva Mula, Ruggero Raimondi, Placido Domingo... Ses engagements l'ont amenée à la salle Gaveau, au Musée d'Orsay, à l'Amphithéâtre de l'Opéra de Paris, au Palazzo Farnèse à Rome, au Teatro Massimo de Palermo, au Festival de Dubrovnik, au Lisinski Concert Hall à Zagreb, au Festival de Colmar, à St Petersbourg, à L'Auditorium Rainer III à Monaco. En 2013, sur commande de l'Opéra-Théâtre de Metz, elle a réalisé la traduction en français d'un opéra russe (opéra-monodrame de Grigori Fried « Le Journal d'Anne Frank »). Le travail avec les jeunes chanteurs tient une place importante dans sa carrière : master- classes au Centre de Formation Lyrique à l'Opéra National de Paris, à l'Atelier des Jeunes Voix du Rhin à Colmar ainsi que pour le programme Opera Overture en Californie. Depuis de nombreuses années, elle accompagne les concerts du « Tremplin des jeunes chanteurs » à l'Opéra-Théâtre d'Avignon. Invitée par Maestro Michel Plasson, elle participe depuis 4 ans à l'Académie Internationale de musique française aux côtés de José Van Dam, Natalie Dessay, Françoise Pollet et Sophie Koch. En octobre 2015 et en septembre 2017, elle a assuré la direction artistique de l'Académie lyrique de l'Opéra de Monte Carlo.