bass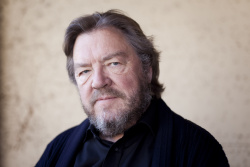 Robert Holl was born in Rotterdam where he studied with Jan Veth and David Hollestelle. In 1971 he won the First Prize at the "International Vocal Competition" in s'-Hertogenbosch, followed by studies with Hans Hotter in Munich. In 1972 he won the First Prize at the "International Music Competition of the German Broadcasting Association" (ARD) in Munich which resulted in TV/Radio engagements and orchestral concerts. Between 1973 and 1975 he was a member of the Bayerische Staatsoper Munich.
Robert Holl is one of the most important Lieder singers of our time, having a particular preference for the German (especially Schubert) and Russian repertoire. He sings regularly with constant high acclaim in all the great music centres in Europe, Israel, the USA, Russia, and Japan.
His numerous musical activities also include Masterclasses in Holland, Austria, Great Britain and Canada, Radio and TV productions, many recordings with renowned conductors and Lieder-CDs (some with András Schiff and Oleg Maisenberg at the piano).
Robert Holl is artistic director of Schubertiads in Austria and Holland as well as artistic advisor of the "Poetry and Music" series in the Brahmssaal of the Vienna Musikverein.
In 1990 Robert Holl was awarded the prestigious Austrian title of "Kammersänger", in 1997 he was named an "Honourable Member" of the "Gesellschaft der Musikfreunde in Wien" and of the Festival "Carinthischer Sommer" as well. In 1998 he became a Professor for Lied and Oratory at the "Universität für Musik und darstellende Kunst" in Vienna. In 2005 he was awarded the "Österreichisches Ehrenkreuz für Wissenschaft und Kunst I. Klasse".
In 2007 he received the high Dutch award of "Ridder in de Orde van de Nederlandse Leeuw" in his home town of Rotterdam.
---
soprano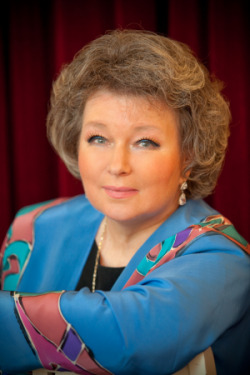 People's Artist of Russia, Prize-winner at the Glinka All-Union Vocalists Competition (Moscow, 1984), Prize-winner and Holder of a Special Award for Best Soprano at the Francesco Viñas International Competition (Barcelona, Spain, 1987). She graduated from the Ural State Conservatoire in violin studies (class of Professor Gashinsky) in 1982, and in solo singing (class of Professor Rodionova) in 1982. From 1983 to 1985 she continued her studies as a postgraduate at the Tchaikovsky State Conservatoire in Moscow (class of Professor I. Arkhipova). Olga Kondina has been a leading soloist at the Mariinsky Theatre since 1985. Her repertoire includes all the leading party lyric-coloratura soprano. The singer's extensive chamber repertoire includes a number of solo recitals of works by French, Italian and German composers. Olga Kondina has toured with the Mariinsky Theatre and independently in Europe, America and Japan; she has performed at the Metropolitan Opera in New York and at the Royal Albert Hall in London.
Olga Kondina is a member of the jury of a number of international singing competitions (including the "Three Centuries of the Classical Romance" International Festival-Competition and the William Stenhammar International Music Competition), and is a lecturer in the singing class at the Rimsky-Korsakov State Conservatoire in St Petersburg. For two years she has been in charge of the Department of the History and Theory of Vocal Art.
The singer's discography includes the CD recordings Russian Classical Romances (1993), Sparrow Oratorio: The Four Seasons (1993), Ave Maria (1994), Reflections (1996, with the Andreyev Academic Russian Orchestra), Ten Brilliant Arias (1997) and Unique baroque music (with Erik Kurmangaliev, conductor Alexander Rudin).
---
organ and harpsichord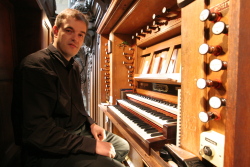 born in Nancy (France). Graduated with honors from the «Conservatoire National Supérieur de Musique de Paris » in organ, harpsichord and continuo. He participated with great success in several international organ competitions, among them First Prize in Bordeaux in 1990.
He is professor at the Conservatoires in Paris XIII and Paris XV. Concert tours have led him to important musical centers as soloist or in duo with the harpist Isabelle LAGORS.
Christian Ott recorded a total of seven CDs, among them Romantic Impressions (transcriptions of works by Wagner, Mendelssohn, Tchaikovsky and Chopin), Musique De Cour, Anthology of Old Music and others. Numerous press reviews praise Christian Ott's virtuosity in both classic and romantic styles. The programs of his recitals are always diverse and interesting.
He is a regular guest at old music festivals in France and Spain. Has composed a great number of works for organ and organ with harp. He is organist (co-titular) at Saint Louis Cathedral, Versailles.
---
soprano
She graduated from the Academy of Music "Carl Maria von Weber" in Dresden with Prof. Ilse Hana. Then, during the 10 years studied with Elisabeth Schwarzkopf.
Following engagements with the opera houses in Halle and Cologne, she started her freelance career.
Initially, Martina Rüping distinguished herself in the German soubrette- and coloratura category, for example as Ännchen (Stuttgart), Queen of the Night (Opera Cologne, Deutsche Oper Berlin, Munich), Blondchen (Karlsruhe) and Zerbinetta (Komische Oper Berlin).
She has given guest performances at major national and international opera houses, for example in Los Angeles, Toulouse, Turin, Tokyo, Munich, Stuttgart, Berlin and Karlsruhe as well as at the Bayreuth Festival.
She has worked with well-known conductors such as Riccardo Muti, Kent Nagano, Philippe Herreweghe, Pierre Boulez, Bruno Weill, Edo de Waart, Frans Brüggen, Alessandro de Marchi, Peter Schneider and Michael Schneider.
She is very interested in interpreting baroque parts and has close ties to the "International Händel Festival" in Halle, where she has already sung in various Händel productions - as Atalanta in Serse, Achill in Deidamia, Clomiri in Imeneo, Esilena in Rodrigo and Iole in Hercules.
In addition, Martina Rüping has a wide-ranging concert repertoire. She had her fantastic debut at the Teatro alla Scala as the soprano in Carl Orff's Carmina Burana, conducted by Riccardo Muti.
Together with the Radiokamerorkest, conducted by Philippe Herreweghe, she sang the soprano part in Haydn's "Creation" in Amsterdam, Stockholm and Oslo. She also sang in Haydn's "Seven Last Words of Christ on the Cross", conducted by Frans Brüggen and Erwin Schulhoff's "Flames", conducted by Edo de Waart.
Modern music performances are also part of the artist's repertoire. She sang in "Le troisième et dernier testament" by Nicolas Obouhow at Concertgebouw Amsterdam -conducted by Reinbert de Leeuw.
---
piano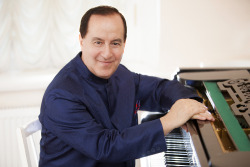 He graduated from the Leningrad State Conservatoire and completed post-graduate course in chamber music and lieder accompaniment. In 1975 he won the international competition for piano accompanists in Rio de Janeiro, which set him firmly on the path to conquering the world's great concert venues.
From 1978-81 he was guest professor at the Hochschule für Musik Carl Maria von Weber in Dresden.  Since 1990 Semjon Skigin has been Professor of Accompaniment and Role Study at the Academy of Music "Hanns Eisler" Berlin.
Semjon Skigin has iniciated and interpreted a number of recordings unique in content and volume for EMI, Philips, BMG and other leading labels. Together with Sergei Leiferkus, Nucia Focile, Nina Rautio, Violetta Urmana, Olga Borodina, Vladimir Chernov and others he has recorded the complete works for voice and piano of Mussorgsky, Tchaikovski, Glinka and Rachmaninov as well as miscellaneous CDs of romances of Borodin, Dargomyzhsky, Glier, Shostakovitch, Verdi and Wagner for which he was awarded the Gramophone Award in 1995 and the Cannes Classical Award in 1996.
At present Semjon Skigin is regarded one of the most acknowledged and engaged masters of piano accompaniment. Among his artistic partners are Olaf Bär, Andreas Schmidt, Robert Hall, Cheryl Studer and Andrik Wottrich.
He regularly directs masterclasses at music colleges in Germany, the Netherlands and the USA. Semjon Skigin is Artistic Director of the Theatre Barge Music Festival in Dresden and Vice President and Artistic Director of the Berlin Salon.